The Information Packet/Checklist for Power Dance Nationals can now be found under forms.
It has been a monumental blessing to receive a full paid bid of approximately $15,000 representing no one other than NCA at the annual Summit competition on May3-4, 2014 at the Walt Disney World Resort in Orlando, Florida hosted by Varsity All Star. We are truly grateful to have been recognized for this glorious honor competing for a prestigious all-level championship amongst the very best from Florida, New Jersey, Washington, South Carolina, Illinois, Louisiana, Canada, Pennsylvania, Colorado, and of course Texas! Needless to say, with all the hype surrounding the Summit and many spectators making early predictions of who will win, the added pressure of representing NCA, which is the pinnacle of all National Cheerleading Competitions, became our inspirational driving force in making sure we gave a performance of a lifetime for preliminaries to make sure we would make it into the finals. There were 18 teams competing in the preliminaries of which only 9 would advance into the finals. It was a big honor when our name was called as one of the finalist during the Varsity Reveal. We were going into finals in 5th place. In our prelims score sheet, one the judges suggested to "consider a quad combo to help increase your jump combo difficulty", we took it into consideration and practiced multiple times on Sunday before it was our time to compete for finals. The Starlites adjusted to the change quickly. We figured that making this change would improve our score and give us a better chance to move up in our ranking. The Starlites went out there during finals and gave an unforgettable last performance which was featured live on ESPN 3. So now everyone knows our name… The Laredo All American Starlites-2014 Summit National Champions!
Congratulations!!!!!! To our Shooting Stars for winning 2014 Battle of Texas Championship!!!!
Check out our National Title Banners and more to come.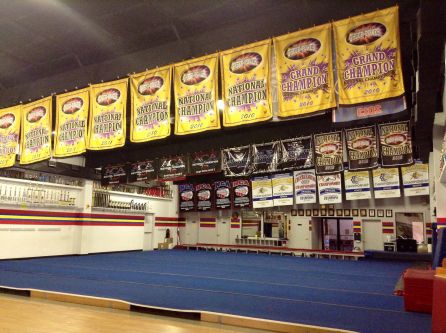 The All-American name came from the past experiences of its owner, Mrs. Norma Arriaga. Mrs. Arriaga told Texas Cheerleader® that she was once an All-American Pom Pom girl. She later became a dance instructor; however, as the years
past she wanted to be reminded of her inspirational beginnings and fond memories. So as an adult, she was able to accomplish her goal of having her own studio," I knew in my heart the words All-American needed to be a part of my vision," said Arriaga. So Laredo All-American was born. 32 awe-inspiring years later and still going strong, The Laredo All-American is one of the true cheerleading training centers in Laredo, Texas. Mrs. Arriaga and her husband have 64 years of combined cheerleading and tumbling training experience. They have a highly motivated and enthusiastic coaching staff that possesses expertise in cheerleading and tumbling. They pride themselves on the fact that 96% of their students accomplish their personal goals of
representing their schools as cheerleaders as well. The Laredo All-American teaches cheer, dance and tumbling. They have seven all-star cheer teams and other classes that "are designed for one purpose, to make [our cheerleaders] the best [they] can be and then some," explained Arriaga. She attributes the success of the program to hard work and dedication! When talking about dedication she said, "Set high standards for yourself, your employees, and most of all, your cheerleaders. It's never too early or too late to add an extra practice. The higher your expectations, the stronger your teams will become." The Arriaga's are proud members of the USASF and are USASF and CPR Certified. In addition, Mr. Simon Arriaga holds a Bachelor of Science Degree with a major in Fitness and Sports with an All-Level Certificate. Mrs. Arriaga's favorite memory of her competition team was when they won back-to-back UCA National Championships. When asked how cheerleading has changed over the past decade, Mrs. Arriaga expressed, "It has become a true competitive sport. The standards are high,
with each competition having its own set of rules and regulations. The days of displaying a cartwheel ending in a right split, cheering - Go! Team! Go! are all over." She loves listening and observing spectators cheer on her teams with such enthusiasm, as her girls strive to hit that perfect routine. "It is an exhilarating feeling," says Arriaga. The most important advice the Arriaga's can provide to someone interested in launching a new All-Star program is to have a planned "goal-setting" program that benefits all teams at their respective skill level. The Arriaga's work hard in the community as well. The Laredo All-American and its students actively participate within the community. "We regularly participate in local Laredo events such as the Youth Parade under the Stars, WBCA Parade, and others," says Arriaga. The All-American also has their annual dance recital in April at the Laredo Civic Center Auditorium.To learn more about The Laredo All American program, please contact Norma Arriaga at (956) 723-2326.