Rehearsal and Recital packet under form for
Saturday, April 26 and Sunday, April 27, 2014
The 2014-2015 All Star Information Packet and Release Form can be found under forms!
Attention LAA Family, Order your own Laredo All American carry-on custom cheer luggage.
www.cheerluggage.com/laredo-all-american-all-stars-20-carry-on-luggage/

Congratulations to our Starlites for winning "THE BATTLE FOR TEXAS" Large Gym for the highest score for 2012-2013 Competition Season.
Since the inception of this all-city competitive all-star program in 1990, its pint-size constituents have been much decorated for notching outstanding performances that have produced more victories than any other cheerleading squad in the history of Laredo. With a reputation of integrity, known around the nation, Laredo All-American continues to inspire, encourage, and motivate the cheerleaders of today to become the true leaders of tomorrow. Over the years there have been many imitators.
Check out our National Title Banners and more to come.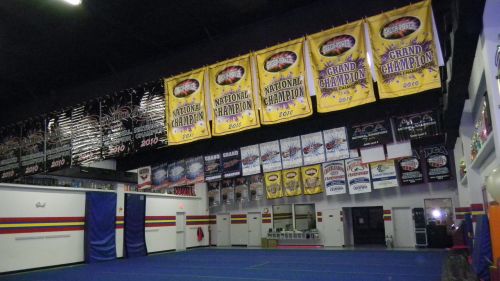 The All-American name came from the past experiences of its owner, Mrs. Norma Arriaga. Mrs. Arriaga told Texas Cheerleader® that she was once an All-American Pom Pom girl. She later became a dance instructor; however, as the years
past she wanted to be reminded of her inspirational beginnings and fond memories. So as an adult, she was able to accomplish her goal of having her own studio," I knew in my heart the words All-American needed to be a part of my vision," said Arriaga. So Laredo All-American was born. 32 awe-inspiring years later and still going strong, The Laredo All-American is one of the true cheerleading training centers in Laredo, Texas. Mrs. Arriaga and her husband have 64 years of combined cheerleading and tumbling training experience. They have a highly motivated and enthusiastic coaching staff that possesses expertise in cheerleading and tumbling. They pride themselves on the fact that 96% of their students accomplish their personal goals of representing their schools as cheerleaders as well. The Laredo All-American teaches cheer, dance and tumbling. They have seven all-star cheer teams and other classes that "are designed for one purpose, to make [our cheerleaders] the best [they] can be and then some," explained Arriaga. She attributes the success of the program to hard work and de
dication! When talking about dedication she said, "Set high standards for yourself, your employees, and most of all, your cheerleaders. It's never too early or too late to add an extra practice. The higher your expectations, the stronger your teams will become." The Arriaga's are proud members of the USASF, AACCA and are CPR Certified. In addition, Mr. Simon Arriaga holds a Bachelor of Science Degree with a major in Fitness and Sports with an All-Level Certificate. Mrs. Arriaga's favorite memory of her competition team was when they won back-to-back UCA National Championships. When asked how cheerleading has changed over the past decade, Mrs. Arriaga expressed, "It has become a true competitive sport. The standards are high,
with each competition having its own set of rules and regulations. The days of displaying a cartwheel ending in a right split, cheering - Go! Team! Go! are all over." She loves listening and observing spectators cheer on her teams with such enthusiasm, as her girls strive to hit that perfect routine. "It is an exhilarating feeling," says Arriaga. The most important advice the Arriaga's can provide to someone interested in launching a new All-Star program is to have a planned "goal-setting" program that benefits all teams at their respective skill level. The Arriaga's work hard in the community as well. The Laredo All-American and its students actively participate within the community. "We regularly participate in local Laredo events such as the Youth Parade under the Stars, WBCA Parade, and others," says Arriaga. The All-American also has their annual dance recital in April at the Laredo Civic Center Auditorium.To learn more about The Laredo All American program, please contact Norma Arriaga at (956) 723-2326.